Lumina
February 28, 2021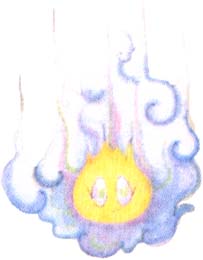 Like Salamando, Lumina is exploited for her powers; in this case, turning a whole island into gold. Despite this, her heart is pure.
LUMINA: I am the Spirit of light, Lumina. My powers were stolen by Mammon, the king of Gold Isle! Mammon abused the power of Mana, and through my magic power created gold. But that's all come to an end. The gold on this island will, someday, return to stone. I hope that the hearts of the people driven mad by the gold return to normal as well, but…Now, I will bestow my power upon you. Before the light of the world is lost to the Mana Fortress…
Because the game doesn't have enough Star Wars references, Lumina's weapon augmentation spell is known as "Light Saber" in the English release, and is a fan favorite, despite not actually doing much due to a bug.
Localization Notes
Lumina is Wisp in Japanese, a reference to Will o' the Wisp.
Skip back to main navigation